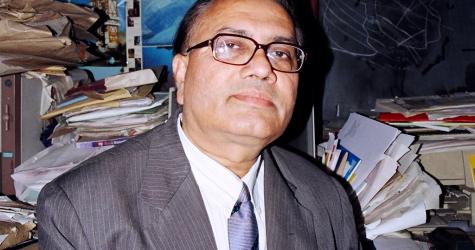 Dr. R.B. Singh has learned many lessons from his long-standing collaboration with the Shastri Indo-Canadian Institute over the years. From tasks such as proposal writing to working with large groups of people amidst cultural differences and distances that span the globe, the professor at the Department of Geography, Delhi School of Economics, University of Delhi says the knowledge has allowed him to grow both professionally and personally.
"I learned about how we can understand each other's problems; how we can cooperate; how we can resolve the conflict…how one can adjust in a different situations," he says.
But what Singh learned during his two Shastri Institute Faculty Research Fellowships and more recently with his work on a Shastri Applied Research Project (SHARP) not only furthered his personal growth but it also enhanced other aspects of his life. "My department, my country, my geographical community and my science community are all getting the benefit with the knowledge received through my partnership," says Singh. "Apart from the research, our primary responsibility is to teach and a teacher can only teach when he is learning himself."
Under the partnership program of the Canadian International Development Agency (CIDA) and the Shastri Institute, and in collaboration with J.S. Gardner from the University of Manitoba, Singh began a two-part research program titled "Sustainability of Mountain Environments" in 1994. The first part of this research program, "Sustainable Development of Mountain Environments in India and Canada", was completed in 1997 while the second part, "Urban Development and Environmental Impacts in a Mountain Context" was completed in 2002. The research was based on case study development in the Manali area, Kullu District, Himachal Pradesh, with comparative studies in Canada.
Through the fieldwork in the area, says Singh, the team was able to build community. The team invited community leaders and government officials to discuss some of the issues at hand and work through a conflict that Singh says is prevalent in many parts of India.
"There is a big gap between the community and policy makers but through this project, we are able to bridge this gap," says Singh. "Inviting the officials and inviting community leaders we tried to resolve the conflict. We tried to raise several issues and moderate the discussion."
Singh and his research team were able to prepare a number of policy-influencing documents from the research conducted over the years. But even when his team was not working on major issues, simple activities like making meals were also life lessons, says Singh. "Sometimes cooking together the Canadian students and the Indian students experienced not only academic but also a lot cultural exchange between the Indian student and the Canadian student."