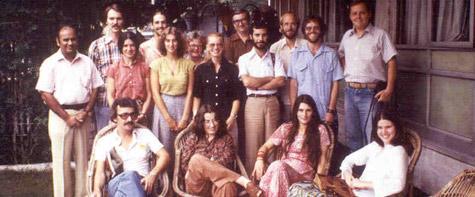 1978 Summer Programme participants
Past Presidents | Past Resident Directors and Vice-Presidents
The Shastri Institute has been instrumental in building understanding, respect and goodwill between our two great countries for the last fifty years.
The idea of an Institute to promote scholarly activity between India and Canada was first conceived by Michael Brecher, a Political Science Professor at McGill University. In 1966, Brecher informally broached the idea to the visiting Indian Finance Minister T. T. Krishnamachari who immediately replied that it was a "splendid idea." In 1967 a joint announcement of the Government of Canada and the Government of India, gave birth to the Shastri Indo-Canadian Institute.
Initially, our focus was to encourage University level Canadian teaching and research on India. With an emphasis on the humanities and social sciences, our programs funded fellowships and distributed Indian books and journals to the libraries of its Canadian member institutions. The growing interest in India Studies among Canadian academics led to a reciprocal interest in Canada among Indian scholars. In the early 1980s, we began to promote Canadian Studies in India. More recently, our activities have broadened further into the field of development studies and sustainability. Institute started supporting research in the area of Science and Technology as it became binational in the Year 2005 .
Today, the Shastri Indo-Canadian Institute maintains offices in Canada and India. Our Canada office is located on the premises of the University of Calgary, which are provided to us at no cost by the University's Board of Governors. Our India Office is located in central New Delhi and was built by Canadian Government funds on land provided by the Government of India.