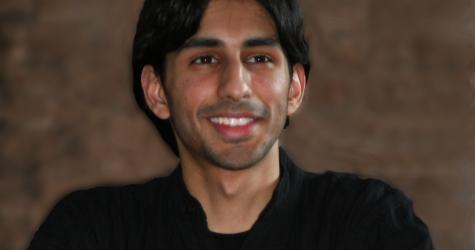 When he flew to Delhi in the summer of 2005 Abbas Janmohamed was making his first trip to India, but in many ways he was catching up with an old friend he'd left behind.
Janmohamed was using a Shastri arts fellowship to pursue his passion for the tabla, the Indian percussion instrument he had started playing as a nine-year-old in Calgary. Within three years, his teacher advised him to go to India to continue his studies. "He said I would need to find an ustad—a master," Janmohamed says. "There was nobody in Calgary with that kind of command and authority over the music."
And so it was that the 12-year-old put aside his tabla and focused on his education. But even though he wasn't playing music, his passion was undiminished. "All through junior high and high school I kept the tabla under a warm blanket in my room," Janmohamed, now 22, says. "I cared for them. I loved them."
During six months of intensive study with a guru in Delhi, Janmohamed rekindled that passion, while refining his sound and technique. With a solid grounding in theory, the next step was to learn new repertoire. To do that he decided to track down his idol, Zakir Hussain—the man whose records he had grown up listening to.
When the tabla-playing legend came to Delhi to play a concert Janmohamed staked out the lobby of his hotel. His persistence paid off when Zakir Hussain let Janmohamed ride with him to the concert and advised him to move to Mumbai to study with another guru, Prafulla Athalye.
Not being one to contradict his idol, Janmohamed made the move. "It was an amazing experience," he recalls. "My guru would teach me compositions anywhere, any time—on the street or in a rickshaw." Janmohamed's improvement was "drastic," and the experience also reaffirmed the importance of tabla in his life.
When he graduates from the University of Calgary's Haskayne School of Business this spring Janmohamed intends to pursue a career in finance, but his tabla is not going back under the blanket. He has started teaching and has even collaborated with a Montreal-based hip-hop group. "The tabla can be adapted to all kinds of music," Janmohamed says. "I'd like to expand the horizons of tabla." If he pulls that off, he will have done for the tabla what his trip to India did for him.