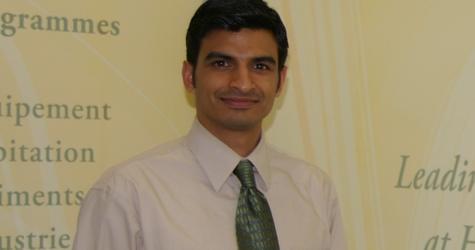 A fourth year seminar course at Queen's University was not only an integral part of Deviah Aiama's undergraduate studies but a pivotal moment that would introduce him to the Shastri Indo-Canadian Institute and put him on the course toward his current work.
The professor of the environmental sustainability course was Dr. Gary vanLoon, the current president of the Shastri Indo-Canadian Institute. 
"Dr. vanLoon mentioned that he was conducting research in India and I had an interest in India and Canada linkages and Shastri provided the perfect opportunity for that," says Aiama, who was born in Vancouver and raised in Bangalore.
But it would be another couple of years before vanLoon would encourage Aiama's participation in the Shastri Applied Research Project (SHARP). After convocation from Queen's with a BSc in Environmental Biology, the now 27-year-old took an environmental consulting position in California before returning to pursue his graduate studies two years later, participating in a SHARP project.
In January 2005, Aiama left for Chennai where he would travel to four different villages in six months in collaboration with the Madras Christian College. His master's work involved the use of biodiversity as an indicator for sustainable land use in tropical agricultural landscapes. Although Aiama grew up in India, he had yet to spend any time in its rural areas. "I spent a month in each village and that was really eye-opening," he says. "It gave me exposure to the village lifestyle and the issues that these communities are dealing with on a day-to-day basis…I got a very special insight into rural landscapes that I may not have otherwise have gotten."
After finishing his masters this spring, Aiama took a position with the Federal Department of Natural Resources in Ottawa as a policy analyst in September—an opportunity that had a lot to do with SHARP, he says.
"In the interview I talked a lot about the research I was doing for my masters…I was working with communities there so there was definitely social and economic aspects that I had to be aware of in order to make any recommendations that were going to be realistic."
Aiama credits the funding through Shastri for enabling him to take on a leadership role during his research and to later apply the knowledge to his future endeavours. "It gave me really good grounding…in overseas research where there a lot more issues to deal with and more complicated because you are so far away from your professors…and sometimes there are limited resources from your host universities.
"I am so glad I could have so many different experiences out of my masters because it has contributed in so many ways where I am today."